Installation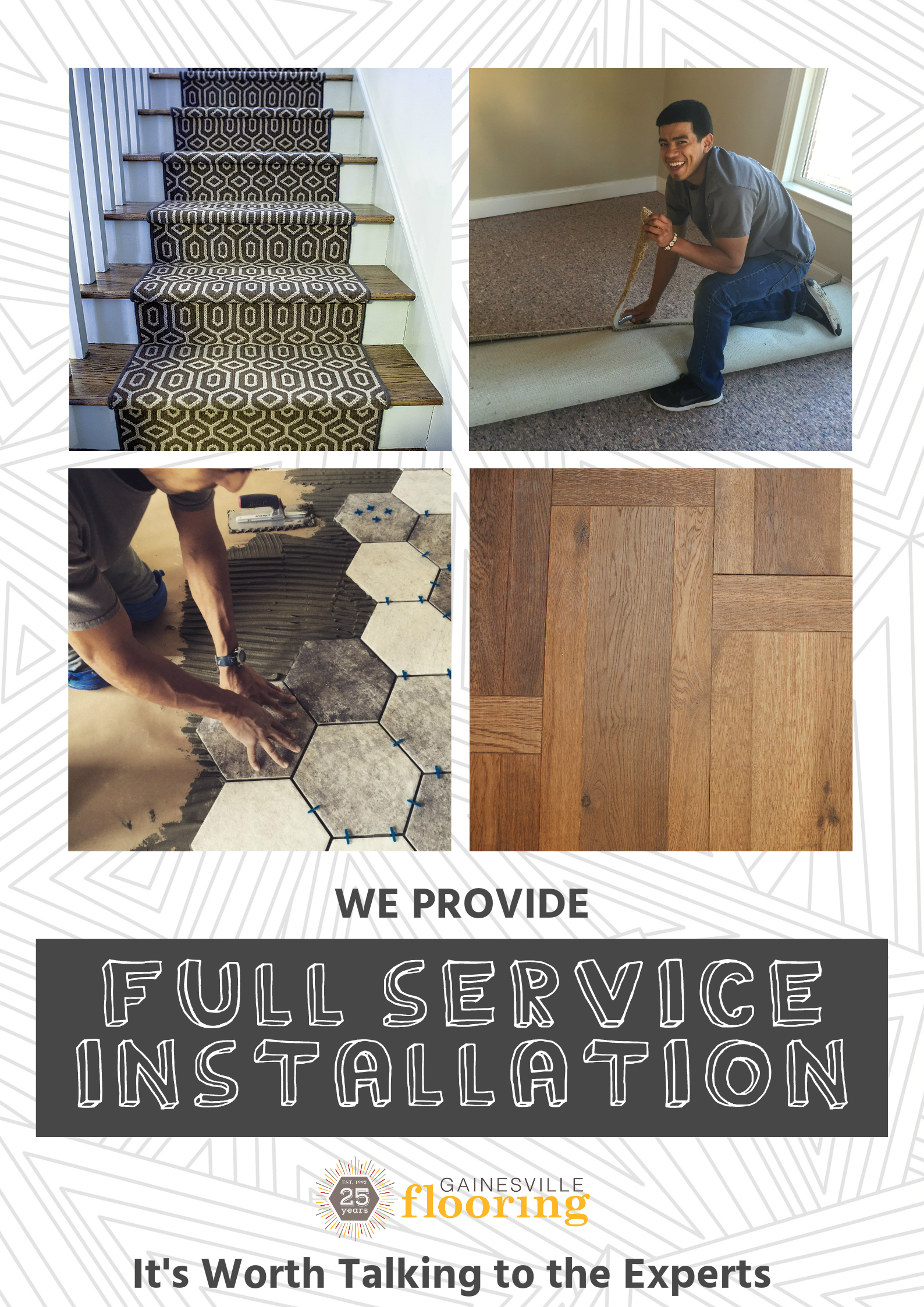 Congratulations…you are having your floors professionally installed by Gainesville Flooring. It takes craftsmanship, skill and expertise to install carpet, hardwood, tile and vinyl and we thank you for trusting us!

At Gainesville Flooring, we understand how disruptive having new floors and backsplashes installed is on your life and we take great pride in trying to make this project a great experience. Here are some in-process images to help you see for yourself.
PRE-INSTALLATION
· Download our Pre-Installation Flyer to find out what you need to do before we arrive.
---
WHAT DO WE MOVE?
· Gainesville Flooring will remove the furniture and recycle your old carpet.
---
WHAT SHOULD YOU MOVE?
· Prior to installation, we ask that you remove all knick-knacks, disconnect computer and electronic equipment and items off the floors (that includes that pile in your closet).
---
CARPET INSTALLATION
Carpet rolls are heavy and awkward and so the installers will most likely need a spot outside to cut the carpet prior to bringing it inside…driveway, cul-de-sac or garage.
If there are knick-knacks or things along the path to the room where you are having carpet installed, you might want to remove those to prevent an accident.
In order to properly stretch your carpet, the carpet backing may scratch the paint on the baseboards. Touching up your baseboards may be necessary as it is an expected result of carpet installation.
If the carpet thickness affects the ability for a door to close after installation, Gainesville Flooring does not trim down doors, so you may have to hire a carpenter.
---
HARDWOOD REFINISHING
Due to the nature of the dust and odor associated with sanding, staining and putting a polyurethane topcoat on hardwood floors, it is recommended to not stay in the house during this refinishing project.
Typically, a project like this will take 5-7 days before you can return and reset furniture.
---
TILE INSTALLATION
Gainesville Flooring uses the Schluter shower systems for all shower installations which provides a patented, water proof underlayment before the first tile is adhered. We are so happy with the performance of this product this is the only product we trust for waterproofing showers.
After tile installation, the tile may need to be cleaned a couple days after installation due to a haze left as a result of the grouting process.
---
VINYL FLOORING INSTALLATION
The floor needs to be completely smooth in order to avoid seeing imperfections in the subfloor through the vinyl.