Carpet
Carpet offers a warm, soft and slip resistant floor covering. Understanding the different types and fibers of carpeting will help you to choose a material that is best for your space and lifestyle.
There are 4 main types of Carpet: Cut Pile, Loop Pile, Natural Fibers and Synthetic Fibers. We will guide you through the carpet options and find the best one for your lifestyle.
Our founder, Jack Everett, installed carpet for over 30 years before opening Gainesville Flooring. We are carpet experts... it's in our DNA.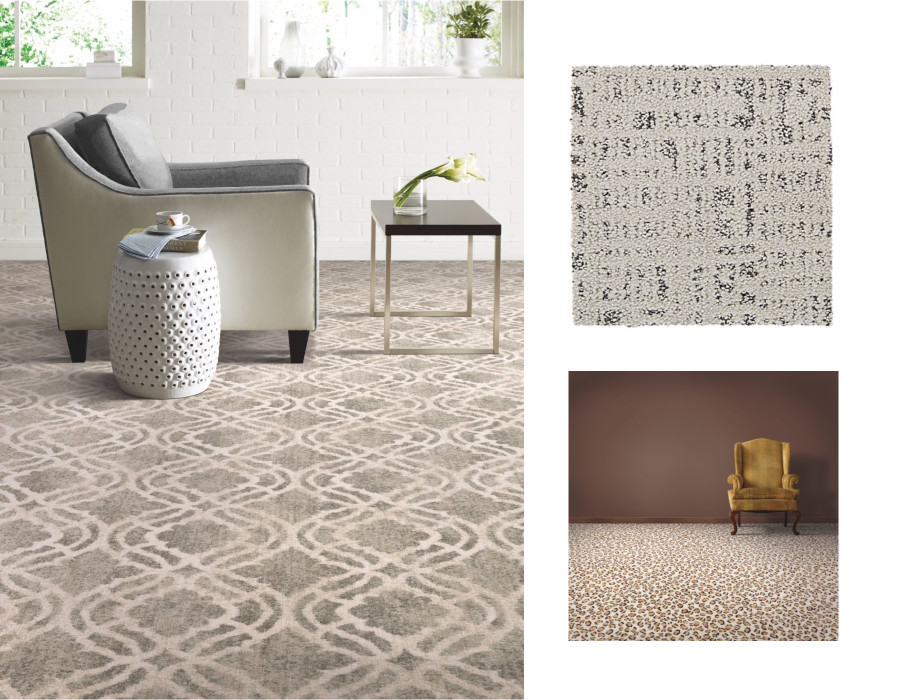 CUT PILE CARPET
is cut or sheared off at the top, exposing the cut pile fibers and creating a carpet with soft cushioning.
Their softness makes them great for bedrooms but their fibers will eventually flatten with normal use.
---
PLUSH CARPET
provides the classic, traditional look where the weave is smooth and dense…like a perfectly manicured golf course. It is extremely soft because the fibers are cut to a level height. Plush is comfortable and trusted.
---
FRIEZE
(pronounced fre-zay) supposedly comes from the dog breed, Bichon Frise because of the texture of their dog hair. It is a cut pile that provides a more contemporary look than Plush. Frieze carpet obscures footprints and vacuum cleaner marks. Its design is marked by twisted fibers and color combinations.
---
SHAG
is not just a 60s or 70s throwback carpet anymore! Its long pile is so long that it sits sideways and looks "shaggy".
Now available in contemporary colors, Shag is perfect for a reading nook, underneath a coffee table or in a bedroom.
Remember however, the yarn length of the Shag carpet will still get caught in the vacuum cleaner!
LOOP PILE CARPET
is very durable, but provides less cushioning than cut pile carpet.
Closed Loop carpet is more suitable for high traffic areas because they wear well and are more mark resistant than cut pile carpets.
Loop pile carpet can withstand the traffic and vacuuming from hallways and stairs.
NATURAL FIBER CARPET
---
BERBER
is not only a tribe in Morocco where our tour guide was from but is also a term broadly used to describe loop-pile carpet. Berber is not ideal for pet owners because Berber's loop can pull from their claws/paws.
Wool, sisal and seagrass are all made from naturally regenerating sources, making these flooring products an eco-friendly choice for your home.
WOOL
remains the premier fiber in carpet construction. Its list of properties are long; strong and static resistant, flame retardant and stain resistant. It is more expensive than synthetic fibers. Wool carpeting can last a lifetime. Wool has a natural resiliency and elasticity that prevents crushing, which is why it can look great and last a lifetime.
---
SISAL
is strong but prone to fading in direct sunlight and can be stained even by water. Made from the Agave plant, Sisal is identified by thin rows that are tightly woven together. Gainesville Flooring can install wall-to-wall Sisal, custom runners for your stairs or a custom sized rug.
---
SEAGRASS
is made from a variety of reedy plants, which gives it a greenish tint– but it does mellow over time into more of a khaki color. It is very durable but should not be used in moist or humid rooms. Great for a low dust or allergy-free environment and available in different weave patterns.
SYNTHETIC FIBER CARPET
NYLON
is the most popular carpet fiber in the US, representing approximately 65% of the carpet sold here, NYLON is very durable with good resiliency and durability. Due to its strength, Nylon is an excellent choice for heavy traffic or commercial use. It is prone to static; but it is soil and mildew resistant.
---
OLEFIN
is a synthetic fiber usually sold in muted colors. Water and stain-resistant, it's often used outdoors. The fiber crushes easily and is a solution-dyed product, which means color is added during manufacturing rather than topically applied (like a carrot vs. a radish). Because of this dye method it has Superior resistance to bleaches and sunlight fading.
---
POLYESTER
is non-allergenic, sheds moisture and resists moths and mildew at a lower cost than wool or nylon. With its wool-like appearance and beautiful colorations, it is often used for cut-pile carpets. Polyester fibers produce some of the most beautiful fibers available.